Sagging skin and accumulating fat under the chin and around the jawline cause the face to look old and tired. Fortunately, we have more options than ever to help contour the jaw and reduce the submental fat that causes a double chin. While CoolSculpting® offers an excellent nonsurgical option for a double chin, chin liposuction remains one of the best ways to create dramatic results.
In this blog post, our own administrative assistant Sarah Schuler answers questions about her recent chin liposuction experience. Dr. Brenton Koch performed Sarah's chin liposuction just two weeks before she shared her thoughts on the procedure.
Preparing for Chin Liposuction
Q: What did you do to prepare before your surgery?
A: I took Valium just prior to my procedure and felt very relaxed but not drugged. Of course, I had a driver lined up since I had taken the sedative.
Q: On the morning of surgery, what were you feeling?
A: Surprisingly, I wasn't nervous—I was so excited! Since I work for Koch Facial Plastic Surgery & Spa, I've had the chance to witness what other patients experience with regard to the professional skill, expertise, and compassionate care offered by our team.
Q: Did you have someone planned to care for you during recovery?
A: Yes, it's really important to have someone dedicated to helping with other duties around the house, with the kids, and YOU during recovery.
Double Chin Lipo Recovery
Q: Were you comfortable going out in public during the healing process?
A: Yes, other than the first 3 to 4 days while I had to wear the band. The post-surgical compression band helps to ensure you get the best result. I laid low the first few days with it on, but it's been smooth sailing ever since.
Q: At any point did you feel regret for having your surgery?
A: Absolutely not. I knew from the beginning I was in the best hands possible for this type of procedure.
Chin Liposuction Results
Q: How far into recovery did you begin to notice your results?
A: RIGHT AWAY! Before the expected swelling and bruising set in, I could see my result, and I couldn't be happier. Each day gets closer and closer to my final result. (You can see some of our other patients' results in our before-and-after photo gallery.)
Q: At what point did you see the light at the end of the tunnel?
A: I am only two weeks in, but I knew the first day that I'd love it! It was very manageable from a discomfort standpoint, and recovery has been a breeze.
Q: What's the biggest impact the procedure has had on your life?
A: I do not dislike my profile anymore, and for me, that's huge. When you have that one thing about your appearance that keeps you from feeling confident, it's so amazing when you get the chance to improve it. But don't trust just anyone if you're considering cosmetic surgery, do your homework.
Chin Liposuction Before and After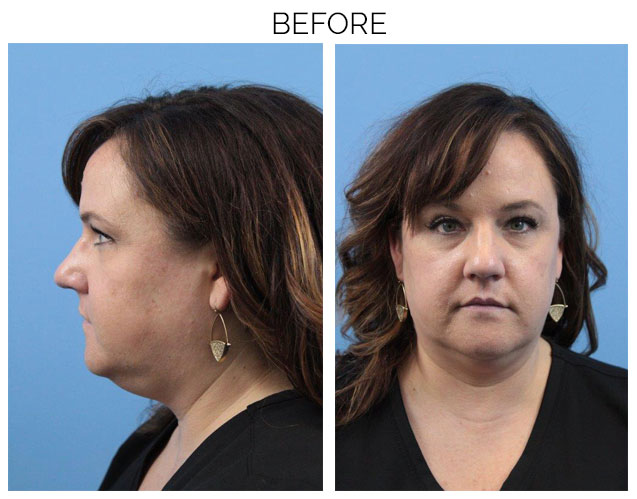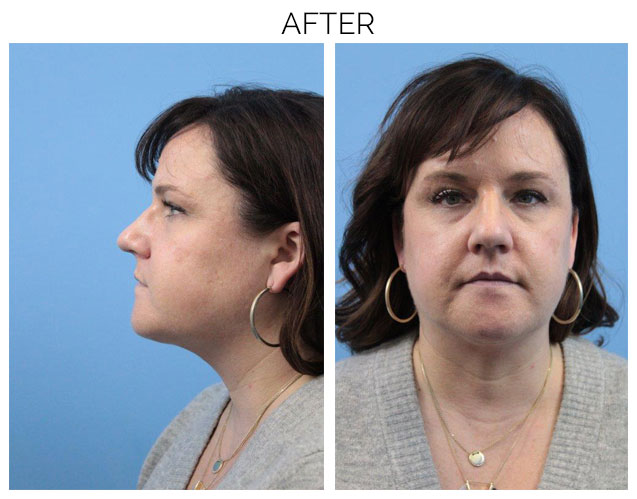 Advice for Prospective Chin Liposuction Patients
Q: What do you wish you would've known going into the process that you weren't told?
A: Nothing. Everything was explained very well by our nurse Barb Vaske and board-certified facial plastic and reconstructive surgeon Dr. Brent Koch. You can even watch a video of my actual procedure on our Facebook page!
Q: What would you tell your best friend if she were considering the same procedure?
A: I would tell her it is very much worth it. Be prepared for some strange sounds during the procedure, some swelling and bumps afterward, and instant results. Also, be prepared to feel amazing about yourself!
Sarah is happy to share her experiences with other prospective chin liposuction patients. To talk with Sarah about facial liposuction, email her at [email protected].
If you're interested in contouring your face and getting rid of your double chin, it's important to choose a qualified facial plastic surgeon. You can learn more about that process in our related blog post or request a consultation online or by phone at (515) 277-5555.