Koch & Carlisle Plastic Surgery & Spa
4855 Mills Civic Parkway #100
West Des Moines, IA 50265
Phone: (515) 277-5555
Monday–Friday: 8:15 a.m.–5 p.m.
Saturday: By Appointment Only

That last bit of fat can be difficult to get rid of on your own. Whether on your thighs, on your belly, under your chin or in another common trouble spot, these bulges can also be difficult to live with. Koch & Carlisle Plastic Surgery & Spa is pleased to have been the first plastic surgery office in Iowa to offer CoolSculpting Elite—the most advanced technology available from CoolSculpting for men and women in West Des Moines. CoolSculpting is a safe and effective procedure used to freeze the fat, helping our patients from Ankeny, Ames, and the Des Moines, Iowa, area slim their contours without anesthesia, incisions, or downtime.

Dr. Brent Koch, Dr. Cody Koch, and Dr. Michael Carlisle are committed to helping you achieve a natural and sleek appearance with or without surgery. To get started, please request a consultation or call our office at (515) 277-5555.
How Does CoolScultping Elite Work?
Fat cells are more sensitive to cold temperatures than many other tissues in the body. CoolSculpting Elite uses a controlled cooling process called cryolipolysis to kill fat cells that lie just beneath the skin, while leaving surrounding tissues unharmed. The body gradually flushes away the dead fat cells through its natural cleansing process, and treated areas become slimmer.
CoolSculpting Elite has reimagined applicators that allow us to treat 2 areas of stubborn fat at one time, creating a more effective, efficient fat reduction treatment than traditional CoolSculpting.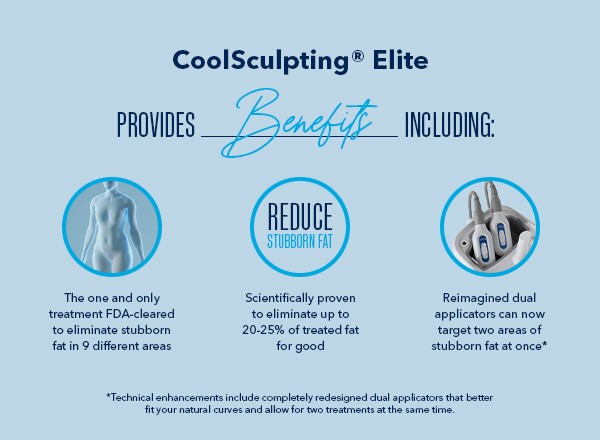 How Much Does CoolSculpting Elite Cost in Des Moines, Iowa?
The price of CoolSculpting Elite starts at $400 and is provided during the complimentary consultation process. Our pricing is ultra-competitive and as low as we can go while remaining compliant with the manufacturer's rules. We also employ the area's most skilled and experienced technician for our CoolSculpting Elite services. We are the first practice in Iowa to offer CoolSculpting Elite, using the latest CoolSculpting technology to help you look your best.
Which Areas Does CoolSculpting Elite Treat?
The CoolSculpting Elite procedure is effective for getting rid of fat on many common trouble spots, including:
Abdomen
Flanks
Thighs
Back
Under the buttocks
Double chin
Arms
If you're also bothered by cellulite on your thighs, hips, or buttocks, you might consider following up with an Avéli treatment. Avéli effectively smooths the dimpled skin by releasing cellulite-causing fibrous bands under the skin and can enhance your CoolSculpting results.
Treating a Double Chin With CoolSculpting Elite
At Koch & Carlisle Plastic Surgery & Spa, we are a CoolSculpting-certified practice that offers the latest enhancements to the procedure including a smaller applicator that we use to slim down a double chin without surgery.
As a practice dedicated to enhancement of the face, we offer facial liposuction as an alternative to CoolSculpting Elite for treating a double chin (technically called submental fat). It is a time-honored surgical approach that our doctors can use to eliminate fat under the chin as well as other areas of the face and contour the neck. Our team will help you decide which option best suits your body and your lifestyle.
What to Expect at Your CoolSculpting Elite Consultation
Before moving forward with the CoolSculpting Elite procedure, our aesthetician will meet with you for a consultation to determine whether the treatment is suited for your body contouring goals.
If you are a good candidate, your aesthetician will create a personalized treatment plan for you that may consist of a single session or multiple sessions, depending on the areas you would like to slim down.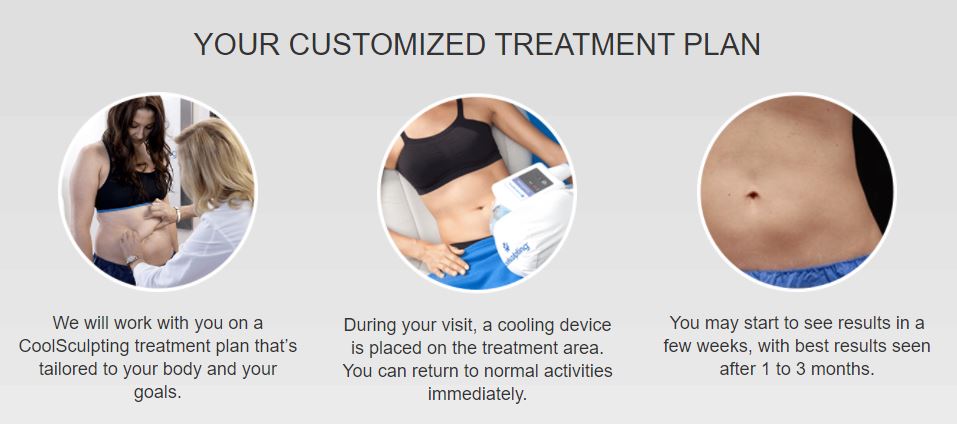 What to Expect During Your CoolSculpting Elite Treatment
We will begin your CoolSculpting Elite procedure by helping you recline comfortably in the treatment chair. A thin gel pad is smoothed over the treatment area to protect your skin.
Next, the CoolSculpting Elite applicator is placed on the area and gentle suction draws the skin between the cooling panels. Designed to treat an even larger area than traditional CoolSculpting applicators, CoolSculpting Elite treats a larger area than ever before. After that, you are free to relax, read, or sleep while the area is cooled to a precise temperature for an hour.
Your aesthetician will then remove the applicator and gently massage the area to break up treated fat for optimal results.
Does CoolSculpting Elite Hurt?
You might experience tingling or mild discomfort, much like using an icepack, during the first 10 minutes of the procedure as your body adjusts to the temperature change. Treated areas may look red for the day after treatment and may be mildly swollen and puffy for about a week.
What Is CoolSculpting Elite Recovery Like?
There is no downtime required after a CoolSculpting Elite treatment. Most patients return to their regular daily activities right away.
When Will I See My CoolSculpting Elite Results?
After a CoolSculpting Elite treatment, you may see changes within 3 weeks and achieve the most noticeable decrease in fat after 2 to 4 months.
More CoolSculpting FAQs
If you don't remove the fat, where does it go?
CoolSculpting Elite causes fat cells to freeze, crystalize, and die. The body's natural metabolism then flushes away the dead fat cells gradually over time.
How many CoolSculpting Elite treatments will I need?
This depends on how your body responds to the treatment, the size of the treatment area, and your goals. Areas are typically noticeably reduced with just 1 to 2 treatments.
How long do CoolSculpting Elite results last?
CoolSculpting Elite results can last indefinitely with consistent exercise and sensible eating habits. With natural weight loss, the fat cells shrink. With CoolSculpting, the fat cells are frozen, die, and are flushed out of the body.