Koch & Carlisle Plastic Surgery & Spa
4855 Mills Civic Parkway #100
West Des Moines, IA 50265
Phone: (515) 277-5555
Monday–Friday: 8:15 a.m.–5 p.m.
Saturday: By Appointment Only

Read through what our patients, who come here from the Des Moines area, Davenport, and beyond, have to say about us on some of the most popular ratings sites. To experience the Koch & Carlisle Plastic Surgery & Spa difference for yourself, request a consultation using our online form or call our office at (515) 277-5555 to schedule an appointment.
Letters from our patients

Dear Brent,
My heart is full of gratitude. You have a wonderfull gift with your talents!
Your staff is such a supportive team. They treat everyone with politeness & kindness. Very professional.
You have a fabulous business.
---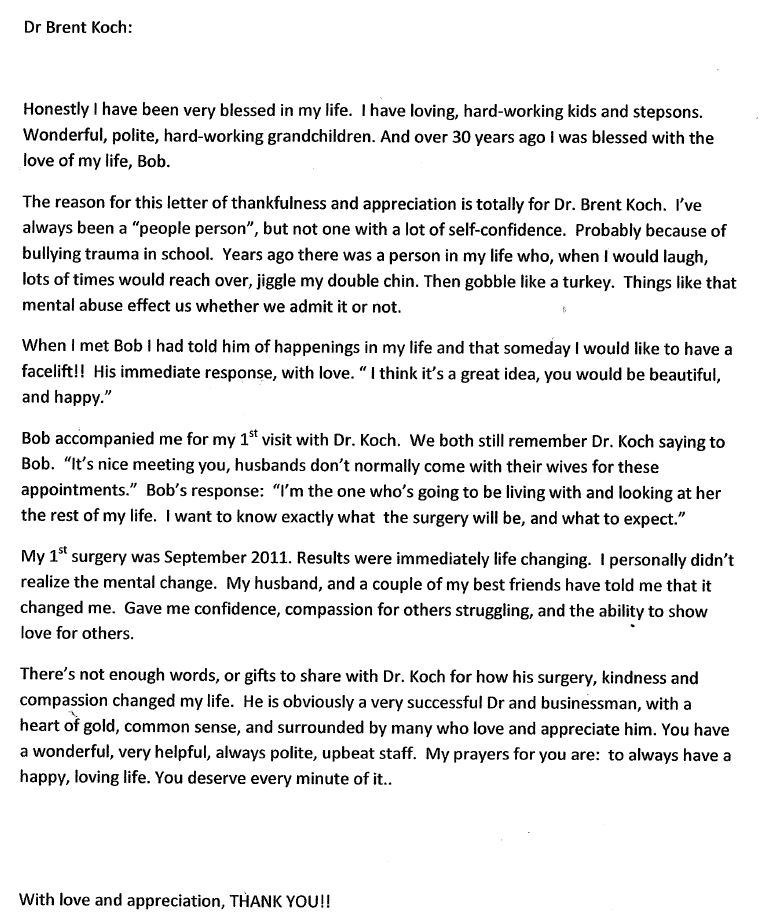 Dear Brent Koch:
Honestly I have been very blessed in my life. I have loving, hard-working kids and stepsons. Wonderful, polite, hard-working grandchildren. And over 30 years ago I was blessed with the love of my life, Bob.
The reason for this letter of thankfulness and appreciation is totally for Dr. Brent Koch. I've always been a "people person", but not one with a lot of self-confidence. Probably because of bullying trauma in school. Years ago there was a person in my life who, when I would laugh, lots of times would reach over, jiggle my double chin. Then gobble like a turkey. Things like that mental abuse effect us whether we admit it or not.
When I met Bob I had told him of happenings in my life and that someday I would like to have a facelift! His immediate response, with love. "I think that's a great idea, you would be beautiful, and happy."
Bob accompanied me for my 1st visit with Dr. Koch. We both still remember Dr. Koch saying to Bob. "It's nice meeting you, husbands don't normally come with their wives for these appointments." Bob's response: "I'm the one who's going to be living with and looking at her the rest of my life. I want to know exactly what the surgery will be, and what to expect."
My 1st surgery was September 2011. Results were immediately life changing. I personally didn't realize the mental change. My husband, and a couple of my best friends have told me that it changed me. Gave me confidence, compassion for others struggling, and the ability to show love for others.
There's not enough words, or gifts to share with Dr. Koch how his surgery, kindness and compassion changed my life. He is obviously a very successful Dr and businessman, with a heart of gold, common sense, and surrounded by many who love and appreciate him. You have a wonderful, very helpful, always polite, upbeat staff. My prayers for your are: to always have a happy, loving life. You deserve every minute of it..
With love and appreciation, THANK YOU!!
---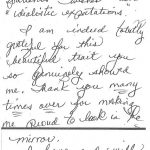 Dear Dr. Koch,
There are no words to describe your gracious consideration of your patients' "wishes" and "idealistic expectation."
I am indeed totally grateful for this beautiful trait you so genuinely showed me. Thank you many times over for making me proud to look in the mirror.
I have and will always continue to spread the word about your skills and exquisite bed side manner.
---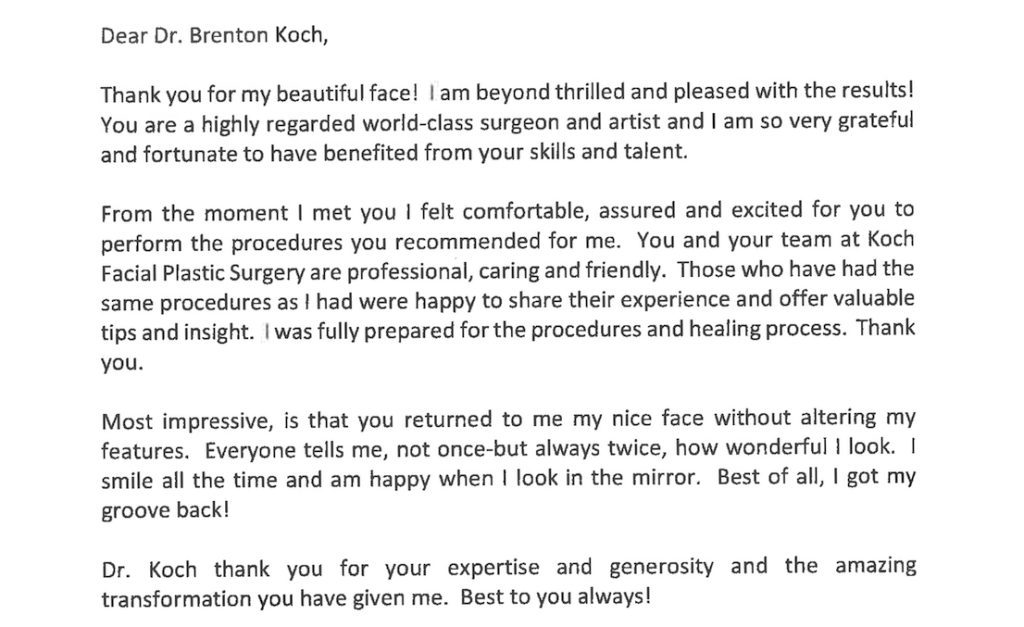 Dear Dr. Brenton Koch,
Thank you for my beautiful face! I am beyond thrilled and pleased with the results! You are a highly regarded world-class surgeon and artist and I am so very grateful and fortunate to have benefited from your skills and talent.
From the moment I met you I felt comfortable, assured and excited for you to perform the procedures you recommended for me. You and your team at Koch & Carlisle Plastic Surgery & Spa are professional, caring and friendly. Those who have had the same procedures as I had were happy to share their experience and offer valuable tips and insight. I was fully prepared for the procedures and healing process. Thank you.
Most impressive, is that you returned to me my nice face without altering my features. Everyone tells me, not once-but always twice, how wonderful I look. I smile all the time and am happy when I look in the mirror. Best of all, I got my groove back!
Dr. Koch thank you for your expertise and generosity and the amazing transformation you have given me. Best to you always!
---
Dr. B. Koch
This is long overdue! Last May you changed me into a person I had long wanted to be! I love looking into the mirror and the fact that I don't have to hide my neck when a picture is taken. My neck and cheek lift turned out so wonderful!
You and your team are exceptional and truly caring.
I really don't know how to express how fantastic I feel now!
Thank you
Anita W.
---
Thank you, Sally, for the transformation. I couldn't be happier!
---
Thanks, Sally. I love my brows! You are very precise. I love it that you are both so professional and fun. (Caring too)
---
Hi Natalie,
I saw Pam on December 18th and just want to let you, and the practice know how amazing she was! I sincerely appreciated her professionalism and empathetic ways! I absolutely love my results from the Botox cosmetic. It was my first time so I was very nervous, but she put me right at ease!
I look forward to seeing her again in maybe 4-6 months (depending on the need) 🙂
Please let her know how much I appreciated her and love my results. I look forward to seeing her again!
Sincerely,
Christine K.
---
Wanted to let you know how much I appreciate Ellen and how attentive she is to my needs and what a wonderful job she does. She takes the time to explain everything – both before and during the procedure. Several of my friends have had the same procedures done at other clinics and Koch always goes the extra mile in regards to when we compare! Many thanks to you and your staff!
---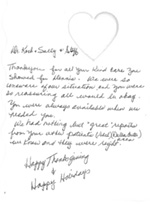 Dr. Koch, Sally & Staff,
Thank you for all your kind care you showed for Dennis. We were so unaware of our situation and you were so reassuring all would be okay. You were always available when we needed you. We had nothing but "great" reports from your other patients (Adel) (Dallas Center area) we knew and they were right.
Happy Thanksgiving & Happy Holidays
---
Elise,
Thank you so much for meeting with us Monday. Emily left your office with a smile I have not seen in quite some time. She has started using the buffs and in 2 uses her KP is basically non-existent. She is also a fan of the sample pads you sent home. I think when the PCA you were going to order comes in, I may pick up those as well if possible! She is excited to start the PCA and see what happens!
Thank you again for listening to her and helping her through this!
---
Hello Elise,
I am so so sorry that I did not send you a Thank You note right away. You did such a great job!! And you always do!
Thank you so much for all your effort and your time, and your help and being kind to me!
I go to your place only because of You! I can tell how much you care and how great of a job you do! Thank you so much for all of it!!
---
Thank you so much for the excellent care I received last Tuesday with the Halo laser therapy and follow-up call today. Your consistent kindness and care of my beauty needs makes me miss you all the more, since I have moved out of Iowa. Wishing you and all the staff at Koch the best, – Beth H.
---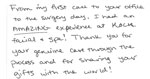 From my first call to your office to the surgery day, I had an AMAZING experience at the Koch & Carlisle Plastic Surgery & Spa! Thank you for your genuine care through the process and for sharing your gifts with the world!
---
I wanted to express my thanks to Ellen for helping me feel great about my skin. I will be turning 50 soon and have never felt better about the health of my skin. I have been seeing Ellen monthly for almost a year now as a member of the VIP club and the results are empowering. I feel confident that with her help I can age gracefully with healthy skin. Every month she helps customize my daily skin care routine. Not any easy task with the changes in the weather in Iowa. I have never lied about my age and with Ellen's help I never will feel the need to. Thanks again Ellen you are the best.
---
Hi I wanted to let Ellen Weber know what a great recommendation it was for me to have a hydra facial. She explained all the steps, answered all my questions and my skin looks fab! Thanks Ellen!
---
Dr. B. Koch,
Thank you so much for doing my lip lift. I could ot have asked for better results. It's perfect. I LOVE my new lip.
Thanks again, – Jan W.
---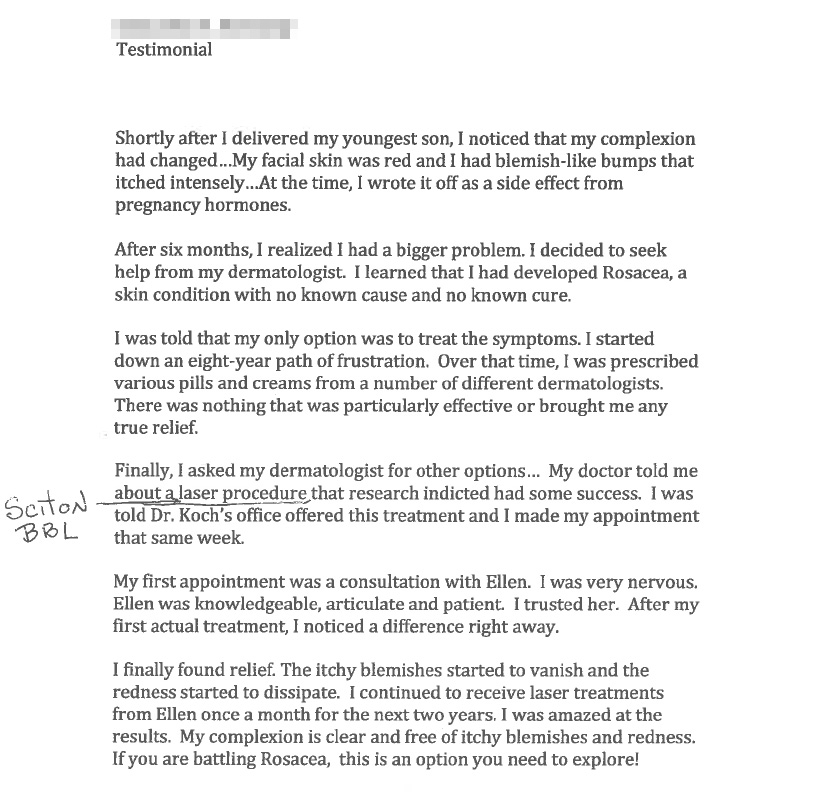 Shortly after I delivered my youngest son, I noticed that my complexion had changed…My facial skin was red and I had blemish-like bumps that itched intensely…At the time, I wrote it off as a side effect from pregnancy hormones.
After six months, I realized I had a bigger problem. I decided to seek help from my dermatologist. I learned that I had developed Rosacea, a skin condition with no known cause and no known cure.
I was told that my only option was to treat the symptoms. I started down an eight-year path of frustration. Over that time, I was prescribed various pills and creams from a number of different dermatologists. There was nothing that was particularly effective or brought me any true relief.
Finally, I asked my dermatologist for other options… My doctor told me about a laser procedure that research indicated had some success. I was told Dr. Koch's office offered this treatment and I made my appointment that same week.
My first appointment was a consultation with Ellen. I was very nervous. Ellen was knowledgeable, articulate and patient. I trusted her. After my first actual treatment, I noticed a difference right away.
I finally found relief. The itchy blemishes started to vanish and the redness started to dissipate. I continued to receive laser treatments from Ellen once a month for the next two years. I was amazed at the results. My complexion is clear and free of itchy blemishes and redness. If you are battling Rosacea, this is an option you need to explore!
---
I am so pleased with my results — cannot thank you enough! I was in AZ over the weekend and a woman looked at me and said I have beautiful eyes. – Julie H.
---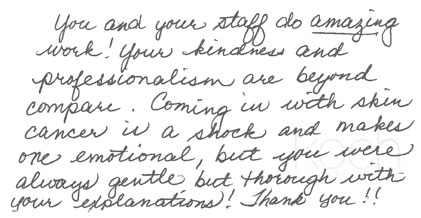 You and your staff do amazing work! Your kindness and professionalism are beyond compare. Coming in with skin cancer is a shock and makes one emotional, but you were always gentle but thorough with your explanations! Thank you!! – Joyce B.
---
I have always been curious about Botox but a little apprehensive to try it. However, the experience I had at Koch made me completely change my mind. Pam did a fantastic job of explaining the procedure and making me feel comfortable. I cannot express how happy I am with my results and would recommend Koch to my friends. I will definitely be returning there for further treatments. – Kylie
---
From the moment I walk in Koch & Carlisle Plastic Surgery & Spa, I feel at peace in such a comfortable and welcoming environment. Pam is such a great injector, and I love how I feel after a simple treatment (like Botox) that takes the edge off the little wrinkles around my eyes. And being a busy professional, it's awesome to be able to run in and out for my Botox appointment! – Monique F.
---
I could not be more pleased or impressed with the results of my Skin Tyte and BBL treatments. I began both with a series of five treatments spaced four weeks apart, and have had regular "maintenance" appointments for both treatments approximately four times per year. Over a two-year period, the BBL treatments have produced a gradual, but dramatic improvement in the texture and tone of my skin. The brown patches along my jawline are gone, the fine lines under my eyes have all but disappeared, and the pores around my nose appear much smaller. As an added bonus, the skin around my forehead and eye area is much tighter, preventing the need for other treatments such as Botox.
I was admittedly more hesitant to try Skin Tyte. Nevertheless, although the results did not appear as quickly as those from the BBL, I am now noticing a marked improvement along my jawline and lower cheek area. The procedure itself is relatively painless, with no down-time. It's undoubtedly helped to delay, or perhaps even prevent, the need for surgery.
I also have greatly enjoyed working with Drs. Brent and Cody Koch and staff members. All are very professional, kind and obviously skilled. Aesthetician Ellen Weber has been wonderful during my Skin Tyte and BBL treatments. She not only is highly trained, but also very patient and creative in helping me maximize my results.
---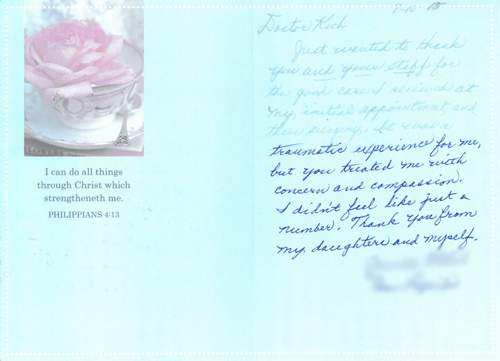 Dear Dr. Koch,
Just wanted to thank you and your staff for the good care I received at my initial appointment, and then surgery. It was a traumatic experience for me, but you treated me with concern and compassion. I didn't feel like just a number, thank you from my daughter and myself.
---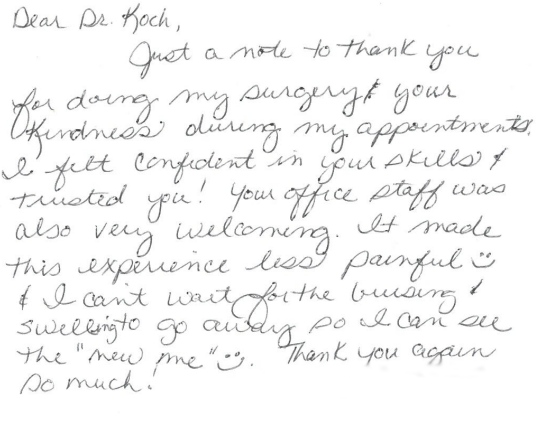 Dear Dr. Koch,
Just a note to thank you for doing my surgery, and your kindness during my appointments. I felt confident in your skills, and trusted you! Your office staff was also very welcoming, it made this experience less painful, and I can't wait for the bruising and swelling to go away so I can see the "new me".
Thank you again so much!
---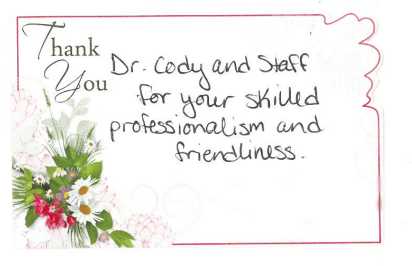 Thank you Dr. Cody and Staff
for your skilled professionalism and friendliness.
---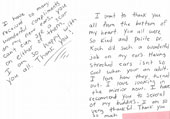 Dr. Cody Koch –
I have received so many wonderful compliments on my new ears. You cant even see a scar on either of them. I am so happy with you all.
Thank you!
---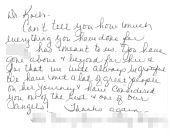 Dr. Koch –
Can't tell you how much everything you have done for —- has meant to us. You have gone above & beyond for her & for that we will be forever grateful. We have met a lot of great people on our journey & have considered you one of the best & one of our angels!
Thanks again
---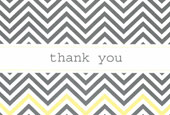 Cody,
I wanted to say thank you from the bottom of my heart for doing such a great job on my nose. On week 2 I already feel that I am breathing better. Everytime I walk by a mirror I am shocked by how straight my nose is! The operation was worth all the discomfort because the result has been great.
Thanks Again
---
Brent,
I have searched for years to find somone to help me with my DSAP.
Your kindness is deeply appreciated more than you will ever know!
It's also been a profound pleasure to get ato know you better, have a wonderful holiday You deserve great joy in your life!
P.S.
I really meant what I said about your book – I thought it was brilliant!
See you in the spring
---
I want to thank Dr. Koch for helping our daughter who had a facial accident during college. Dr. Koch treated our daughter very well, kindly, and above all, her face is repaired (looks better than it did before the accident). As parents, knowing our daughter was well cared for was very helpful. thanks again!
---
Dear Dawn,
Thanks so much for piercing my ears in June. Sorry it took me so long to write you a note. It is so fun to change my earrings. You were so nice, I loved coming to your office.
---
Hi Dr. Koch,
I just wanted to thank you so much for making me look years younger and giving me back my confidence! I am just thrilled, and best of all, so was my husband!
We did the filler around my mouth as I had drastically different skin in that area then on the rest of my face. It looks so uniform now, I can't believe I waited to do it!!
Finally, I am back in outside sales, which I had avoided because of looking so…mature (hey, I know it makes a difference, especially for women). So traveling to Florida to meet with my clients again!
Thank you again. You and your staff are the greatest!!
---
Dr. Koch,
Thank you for not just being a great doctor, but also an amazing person! We just had our facials last week ~ amazing. I absolutely hands down LOVE my nose.
---
Dear Dr. Koch,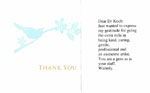 Just wanted to express my gratitude for going the extra mile in being kind, caring, gentle, professional and an awesome artist. You are a gem as is your staff.
---
Everything about the visit and subsequent work with Dr. Koch and his staff exceeded my expectations. They thoroughly answered every one of my many questions and took a personal interest in my desired outcomes and progress throughout the process. Without a doubt they comprise the cheeriest medical office I have ever encountered.
Everyone is personable and approachable and very professional. I asked Dr. Koch if all facelifts were the same or if I could have one that did not remove as much skin as usual because I did not want to look younger, only a better 62. He said everything is individualized and he would be glad to do what I wanted.
The surgery, which was a mid (s-lift) Rh\hytidectomy – removal of excess skin from my temporal, cheek and jowl areas – was done in the office with only the use of one Valium tablet and a local anesthetic. I chatted during the process and felt no pain. It took about an hour and a half after which my face was wrapped in cotton and my husband took me home. I slept the rest of the day and went back in for a scheduled appt the next morning when the cotton was removed.
After that it was just a matter of time while the healing process occurred. I had been given some pain medication but only took one or two tablets before feeling fine. I visited Dr. Koch after the first week and then after the first month. He was always interested in how I was progressing, checked things thoroughly, and again answered all my questions. I felt better about my looks after the first week and it only continued getting better after that.
My husband, who did not want me to have the procedure, is now thrilled with it! He says I look the same, only much better, more rested or refreshed. Friends and family only say that I look so good – I really don't think they know that I had any surgery – even my mother and sister! This is exactly what I was hoping for! I have also used the spa for a facial and I will return for more. I most highly recommend Dr. Koch and his practice!
---
From the moment I walked into the office, I was treated with dignity and respect, like a real person and not a number. Surgery had no surprises, I was totally prepared for what was going to happen, the honesty and integrity with which everyone conducts themselves is outstanding.
---
Facial. Fabulous! Love Ellen!
---
They are very good. I think that they make people feel comfortable. I haven't had any trouble getting in.
---
Dr. Koch,
From the time I entered your office building your staff put me at ease. Your business card "Cody A. Koch M.D., Ph.D," made me aware you were indeed a find. Then, I met you and yet more impressed by your gentle spirit. Now I am in first stages of post-op repair of basal cell nasal cancer.
I cannot begin to thank you for the call I have received. The nurses, the most competent anesthesiologist and your skill. A simple thank you doesn't seem to be enough to say but I do sincerely send to you – a very heartfelt Thank You.
---
Dear Dr. Koch and Staff,
I want to thank you for making my procedure as pleasant as possible. I was extremely impressed with the level of professionalism and expertise that your office demonstrated throughout my entire surgery. It's because of your kindness and willingness to answer my questions that I was able to have such a great experience!
I spent 2 years researching plastic surgeons because I was so concerned with potential complications. As a full-time model, I was worried about the appearance of my nose changing drastically. I wanted to be able to breathe at night without snoring, but I wasn't sure if it was worth risking my nose's appearance. I consulted with several surgeons around the country and was immediately impressed with you and your office. Unlike other doctors, you took a very individualized approach and addressed all of my questions and concerns. Your staff was amazing and extremely knowledgeable, as well.
I never second-guessed my procedure thanks to the professionalism and compassion of your staff. The morning of my surgery, I was greeted with a smile and treated as if I was your only patient.
The end result of my surgery is amazing. You truly are an artist. I can breathe through my nose perfectly, and I was able to fly to Europe exactly 1 week after surgery for a photo shoot. I had little bruising after surgery, and by day 7 the swelling and bruising had diminished almost completely.
Thank you all so much. I would happily recommend you to anyone in search of nose surgery.
---
Dear Dr. Koch & Staff
This note has been a long time in coming but I sincerely owe you a HUGE thank you for the surgical gift you gave me. I went to my daughter's wedding and received so many compliments (especially from siblings with the family eye bags!)
As always, everyone at your office is a pleasure to work with…I smile as I think of you all, words escape me; how can I thank you enough? Maybe someday, somehow, I can pay it forward? Thank you, thank you, thank you!
---
Dear Dr. Koch and Exceptional Staff,
I am grateful to each of you for the excellent professional service I received since October 2010. Your warm and gracious presence touched me. This care began with my initial visit and continued throughout my procedure, follow-up visits and other services you provided me.
It has been said that your face is expressive of your innermost being, and that the eyes are a window to the soul. Through your compassionate care you brought this adage to a new level of beauty, and renewed spirit within me.
Know that you hold a special place in my heart and that I will always be grateful.
Blessings to each of you until our paths cross again.
---
Dr. Koch ~
Sally, Debbie & Carrie
Thank ALL of you, for your kindness and hospitality. (And my nose thanks you!)
See you in August!
---
Dear Dr. Koch,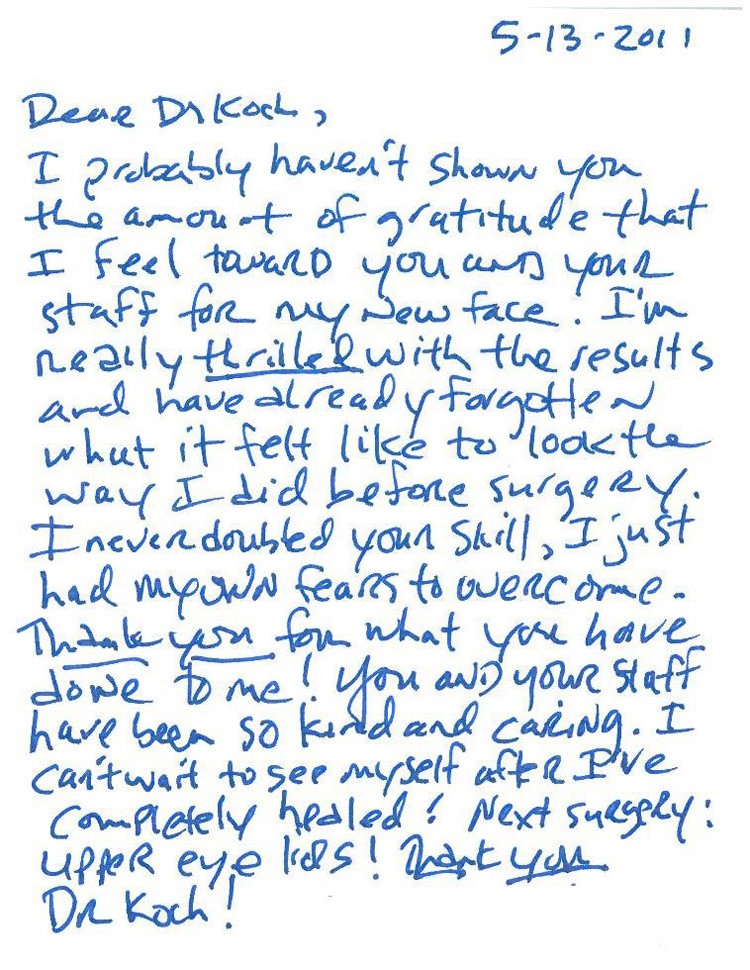 I probably haven't shown you the amount of gratitude that I feel toward you and your staff for my new face. I'm really thrilled with the results and have already forgotten what It felt like to look the way I did before surgery. I never doubted your skill, I just had my own fears to overcome.
Thank you for what you have done to me! You and your staff have been so kind and caring. I can't wait to see myself after I've completely healed! Next surgery: upper eye lids!
Thank you Dr. Koch!
---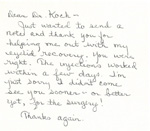 Dear Dr. Koch,
I just wanted to send a note and thank you for helping me out with my eyelid recovery. You were right. The injections worked within a few days. I'm sorry I didn't come see you sooner or better yet, for the surgery! Thanks again.
---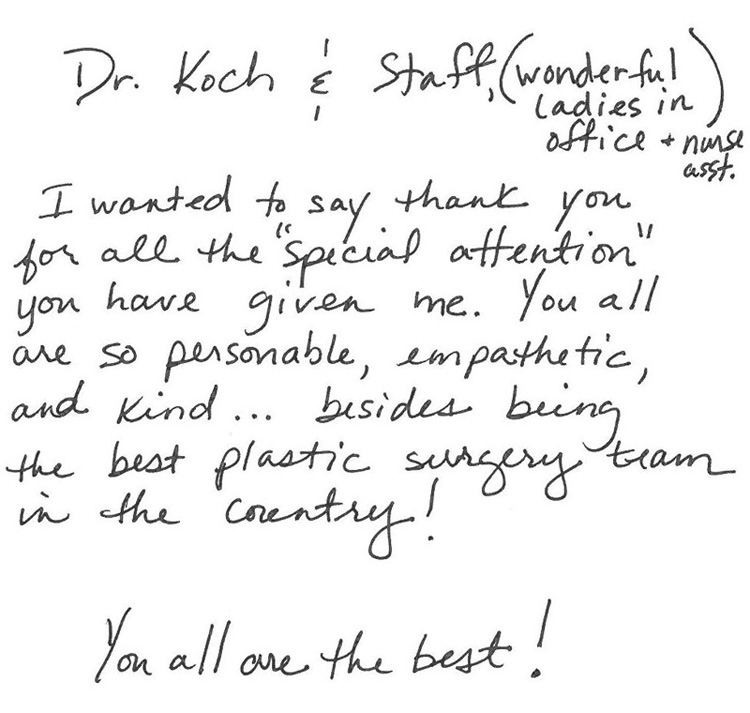 Dr. Koch & Staff (wonderful ladies in the office & nurse assistant)
I wanted to say thank you for all the "special attention" you have given me. You all are so personable, empathetic, and kind….besides being the best plastic surgery team in the country!
You all are the best!
---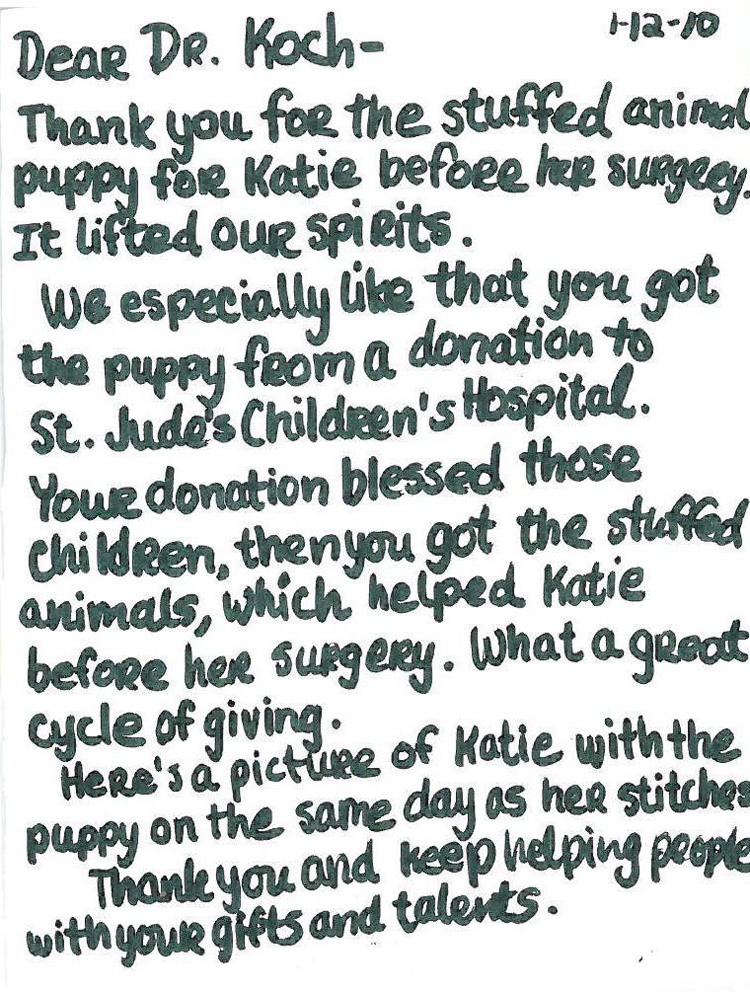 Dear Dr. Koch,
Thank you for the stuffed animal puppy for Katie before her surgery. It lifted our spirits.
We especially like that you got the puppy from a donation to St. Jude's Children's Hospital. Your donation blessed those children, then you got the stuffed animals, which helped Katie before her surgery. What a great cycle of giving.
Thank you and keep helping people with your gifts and talents.
---
Dr. Koch,
Thank you very much for the excellent care that you gave me. It is hard to put into words the appreciation I have for you. From the minute that I met you, I knew I was in good hands and it gave me a sense of peace and confidence. I am so forever grateful for what you have done for me. Thank you.
---
Dr. Koch,
I wanted to thank you again for the work that you did on me last month. I am so impressed with the results. I greatly appreciate you taking the time Saturday morning for my appointment when I knew that you could have been out enjoying the day. I hope that you have a wonderful summer!
---
Dr. Koch and Staff,
Thank you for the amazing work you did regarding such a minute out-patient procedure! Everyone was so professional, but down to earth. I especially want to thank you, Dr. Koch. My lipoma had bothered me for some time & recently it boiled over to frustration. As a blue collar guy, I work pretty hard for my money & I can honestly say this was money well spent. Furthermore, you were beyond generous with the bill! Thank you.
---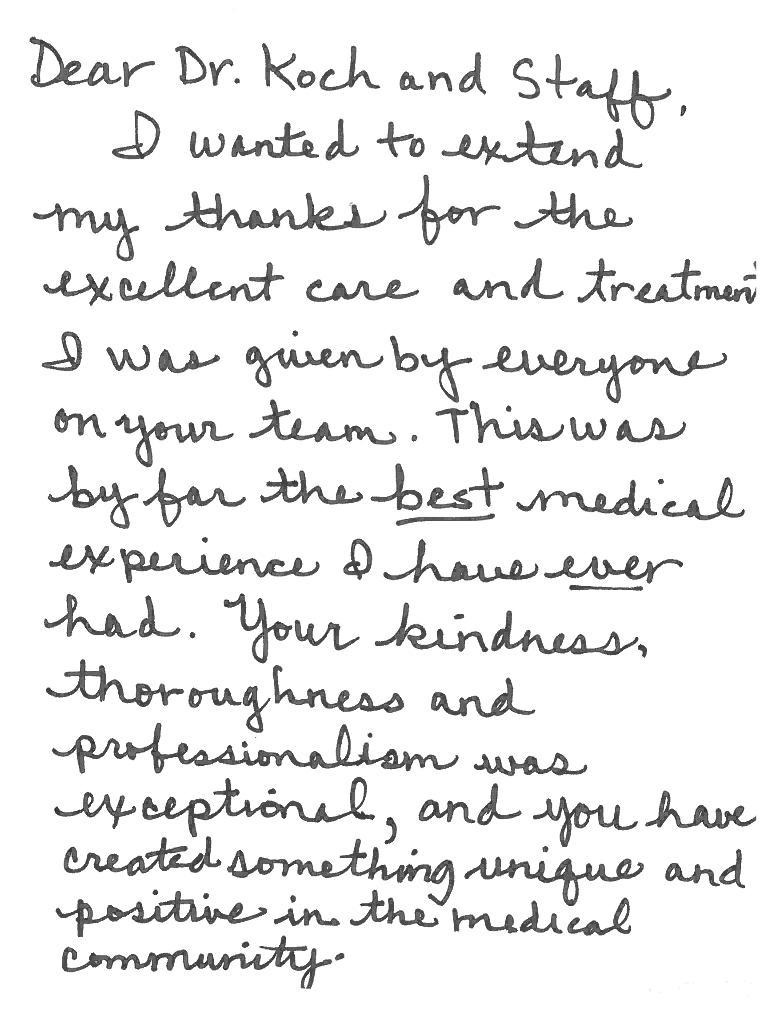 Dear Dr. Koch and Staff,
I wanted to extend my thanks for the excellent care and treatment I was given by everyone on your team. This was by far the best medical experience I have ever had. Your kindness, thoroughness and professionalism was exceptional, and you have created something unique and positive in the medical community.
---
Dear Dr. Koch,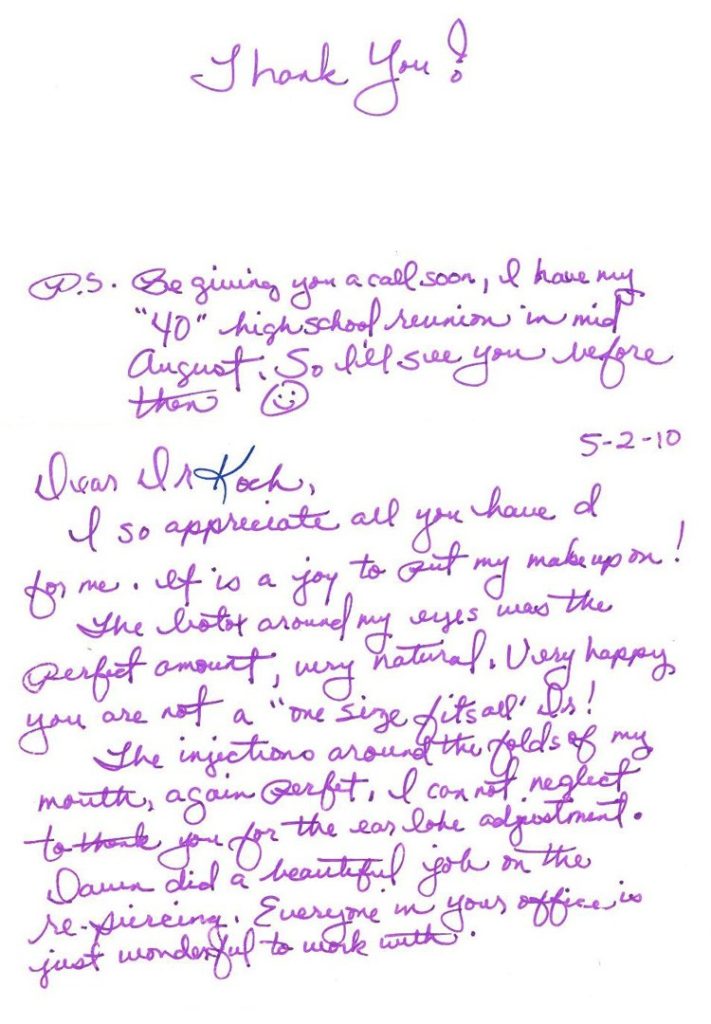 I so appreciate all you have done for me. It is a joy to put my makeup on! The Botox around my eyes was the perfect amount, very natural. Very happy you are not a "one size fits all" Dr.! The injections around the folds of my mouth, again perfect. I cannot neglect to thank you for the ear lobe adjustment. Dawn did a beautiful job on the re-piercing. Everyone in your office is just wonderful to work with.
P.S. Be giving you a call soon, I have my "40" high school reunion in mid-August so I'll see you before then.
---
Dr. Dr. Koch, Dawn & All;
Thank you so much for your care, compassion, respect and expertise you extended me as just one of your patients. My experience was far greater than my expectations. You excel! Keep doing what you all do so very, very well! (From the front door to the last appointment ! )
---
Dr. Koch and girls,
Thank you, thank you, thank you!
You will never completely know how your service has changed my life. To be able to breathe and rest 1st most. But to be able to look in the mirror and be happy…oh what a feeling.
You are a group of wonderful people and my family and friends will always remember what you have done for us. God bless each of you.
---
Dear Dr. Koch,
Thank you so much for removing the moles from my nose but especially making the process comfortable and putting me at ease. I really was under-whelmed by the process. Your staff is so wonderful and nice too. Everything is healing nicely! Thank you again.
---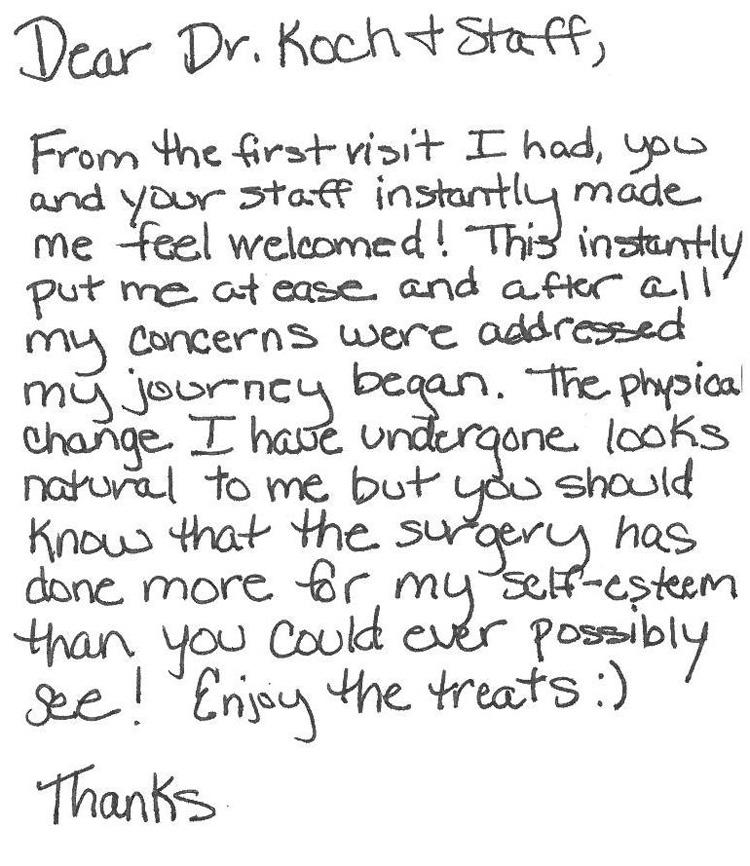 Dear Dr. Koch & Staff,
From the first visit I had, you and your staff instantly made me feel welcomed! This instantly put me at ease and after all my concerns were addressed my journey began. The physical change I have undergone looks natural to me but you should know that the surgery has done more for my self-esteem than you could ever possibly see! Enjoy the treats! Thanks.
---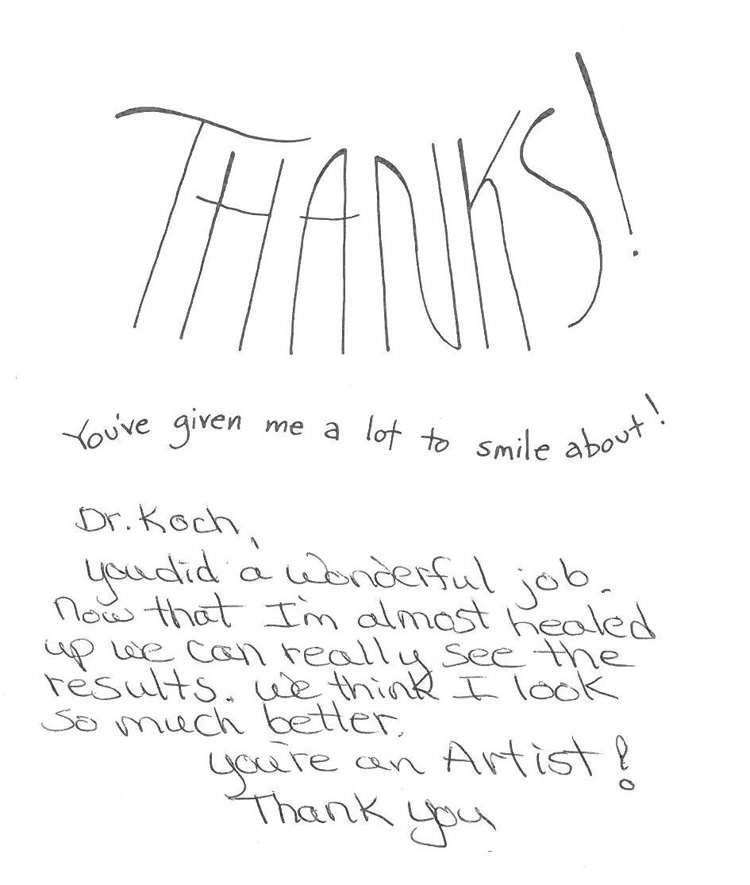 Dr. Koch,
You did a wonderful job. Now that I'm almost healed up we can really see the results. We think I look so much better. You're an artist! Thank you.
---
Dr. Koch,
Consider these treats a small token of my appreciation for all you have done for me. You certainly are all about service and helping your patients. You calmed my nerves before my surgery, saw me in the office on a holiday (which was also your anniversary), and listened to me when I was having a bad day. For all of this and more I say thank you!
---
Dear Dr. Koch,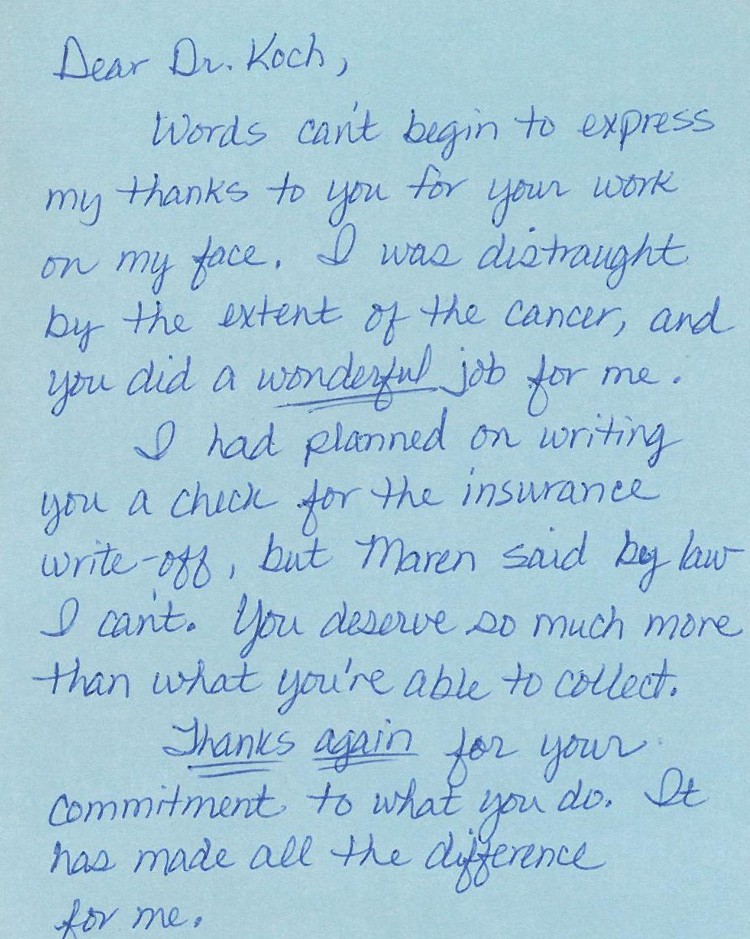 Words can't begin to express my thanks to you for your work on my face. I was distraught by the extent of the cancer, and you did a wonderful job for me.
I had planned on writing you a check for the insurance write-off but Maren said by law I can't. You deserve so much more than what you're able to collect.
Thanks again for our commitment to what you do. It has made all the difference for me.
Thank you for everything you did for my son. You are a wonderful doctor and in my opinion you went above and beyond to make his experience a good one. Football over now on to baseball and graduation. Thank you.
---
Dear Dr. Koch,
You were right! All the swelling is going down rapidly and I look like myself. My panic was for naught. I started going out after 2 weeks. Rode my bike to the library, bookshop/café, etc. I live in a small town and saw loads of friends and no one mentioned a thing. I was thrilled. It confirms what I already knew. You are an excellent surgeon/artist. I look like my driver's license photo taken 8 years ago at 46 years.
Actually I look like myself without the aged, ravaged, exhausted veneer. I have nothing against aging and some women do it beautifully, sagging, wrinkles and all. But I didn't. I simply looked pulled down, cyclone swept, drawn and unhealthy. Now I look shiny, fresh, awake and alert and with some of the prettiness I had in younger days. Thank you, thank you, thank you.
Your confidence and easy manner made the whole ordeal a million times smoother than I ever imagined.
---
Dear Dr. Koch,
I just wanted to thank you for all the care you have given me. You and your staff could not have been more considerate in all aspects of my office visits and surgery. I know you spent more time and effort with me than other doctors would do and I really appreciate it. The results look great. I've had others mention how much younger I look. Thanks again for all your help.
---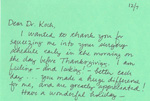 Dear Dr. Koch,
I wanted to thank you for squeezing me into your surgery schedule early in the morning on the day before Thanksgiving. I am feeling – and looking! – better each day….You made a huge difference for me, and are greatly appreciated! Have a wonderful holiday.
---
Dr. Cody Koch,
I would like to express my gratitude to you and your team for the wonderful experience I had yesterday at the clinic.
A beautiful building, warm dedicated staff and a very knowledgeable doctor far exceeded all the expectations I had for my first consultation in plastic surgery.
My friends will hear about the Koch Clinic and I am looking forward to my next appointment.
Best Regards,
---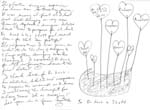 The plastic surgery experience has been an interesting journey. It was scary at first as I just had surgery on my nose then off to plastic surgeon. I didn't have time to prepare for it but Dr. Koch and his staff put me at ease — for that I'm grateful. The information I was given on what to do the day of surgery and seven days after surgery was so thorough. I commend Dr. Koch for the information down to the fine detail. I thank God for Dr. Koch — his abilities, skills and compassion to repair the wound as I know I will reap the benefits for a long time. It is amazing!! See you in a few months.
---
If you'd like to see for yourself what makes our Des Moines, Iowa facial plastic surgery patients so happy, please request a consultation or call our office at (515) 277-5555. Our doctors and staff look forward to meeting you to discuss how you can achieve your cosmetic desires.