By now, you've seen a lot of fuss over the S-Lift on our social media stories. Both our medical assistant, Sally, and our PA-C, Pam, recently had S-Lifts to improve the appearance of their lower faces and necks. We LOVE the S-Lift facelift and what it can do for our Des Moines patients. We can't wait to answer your questions below.
What is an S-Lift?
The S-Lift is a type of mini-facelift procedure that improves the appearance of mild to moderate face and neck sagging, restoring a more youthful and refreshed appearance. This procedure is less invasive than a traditional facelift, offering shorter recovery times, fewer risks, and less extensive incisions.
The before-and-after photos below show the results our S-Lift patients enjoy. On the left our nurse, Barbara Vaske is pictured before I performed her S-Lift procedure. After her S-Lift, pictured on the right, you can see how the procedure gave her jawline and chin greater definition and smoother, rejuvenated cheeks.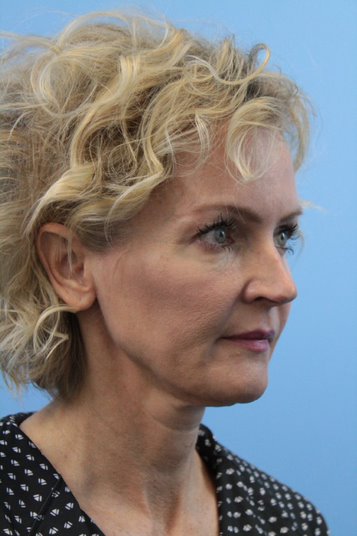 You can see more photos showing the type of results achieved with S-Lifts, traditional facelifts, and other facial rejuvenation procedures in our facelift before-and-after photo gallery.
Are there any limitations to an S-Lift?
The S-Lift treats the lower third of the face and neck. The position of the brow and forehead and the eyelids' appearance are not affected by the S-Lift.
Who is a good candidate for an S-Lift?
Healthy men and women who are not interested in undergoing major surgery but would like to improve the appearance of mild to moderate skin laxity in the lower face and neck may be good candidates for an S-Lift.
What happens at an S-Lift consultation?
During the consultation with Dr. Brent Koch or Dr. Cody Koch, you will discuss your goals regarding your facial appearance and what you hope to achieve through surgery. Your face and skin will be examined and measurements noted. They'll also conduct a thorough medical history, including photos taken, and discuss your options and whether additional procedures such as an eyelid lift can enhance your results. All details of the S-Lift procedure will be explained, and any questions or concerns that you have will be addressed.
How is the S-Lift surgery performed?
Dr. Koch performs the S-Lift in our office-based surgical suite using local anesthesia.
Once the anesthesia is administered, a narrow 'S'-shaped incision is made within the hairline and inside the ear. The skin is lifted, underlying muscles and tissues are repositioned and tightened, and redundant fat and skin are removed.
The S-Lift procedure takes about two hours to perform. You can see one of our patients, our very own medical assistant Sally Irving, pictured below with Dr. Cody Koch and surgical tech Lauren Mason, after her S-Lift procedure.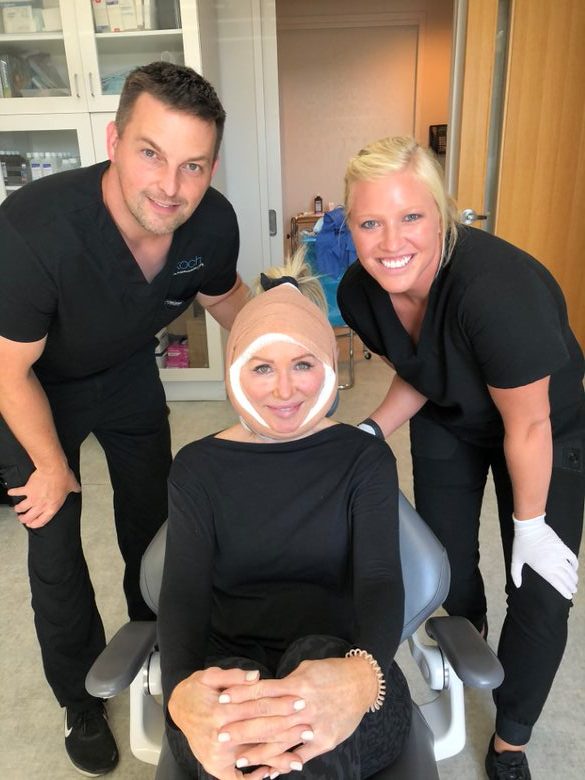 Where are the incisions made for the S-Lift?
The incision for the S-Lift is located within the hairline and inside the ear and is shaped like a narrow 'S'.
Will I have scars from an S-Lift?
The incision made for the S-Lift is hidden within the hairline and inside the ear, resulting in a well-concealed scar.
Is an S-Lift painful?
There can be some minor discomfort after the S-Lift, which can be managed with medication, rest, and a proper diet.
What's recovery from an S-Lift like?
Patients can expect a recovery time of about 3 to 5 days after the S-Lift. Some minor bruising and swelling may occur, along with some minor discomfort, which can be controlled with medication. Stitches are removed within 5 to 7 days.
Patients can usually return to work in 5 to 7 days, though more strenuous activities will need to be postponed for about 2 weeks.
Learn more about facelift recovery in our related blog post.
Are there potential complications with an S-Lift?
While the potential complications associated with S-Lift are less than those associated with a traditional facelift, there are still some risks that may include adverse anesthesia reactions, asymmetry, bleeding, excessive scarring, infection, and poor healing.
Does insurance cover the S-Lift procedure?
S-Lifts procedures are generally performed for cosmetic reasons and are typically not covered by insurance.
Ready to learn about your S-Lift facelift options?
Call our office at (515) 277-5555 to schedule your consultation or request a consultation using our online form. Appointment times and associated consultation fees will be discussed with you at that time.