A tummy tuck can help flatten and sculpt your midsection after pregnancy or significant weight loss. Both events probably brought a lot of joy to your life but may have gifted you with a saggy and lumpy midsection. A tummy tuck can improve your midsection concerns, and our team is here to help you learn about the procedure and its recovery process.
Here are some questions men and women often have about the surgery.
What Can I Expect During My Tummy Tuck Procedure?
If you have a full tummy tuck, your plastic surgeon will remove stretched skin and fat deposits in the abdominal area to create a flatter, contoured midsection. They will also work on your sagging and weakened abdominal muscles and reshape your bellybutton. Fleur-de-lis tummy tucks (after massive weight loss) and extended tummy tucks provide more extensive skin tightening and body contouring. For a mini tummy tuck, your plastic surgeon will remove only the loose skin below the bellybutton.
The duration of a tummy tuck will vary depending on the midsection concerns you want to improve. You can expect your procedure to take about 2 to 5 hours. You can also tailor your procedure to fit your individual midsection goals.
What Is a Typical Tummy Tuck Recovery Timeline?
Your recovery process and recovery time will be unique to you. However, here is what you can generally expect after your procedure.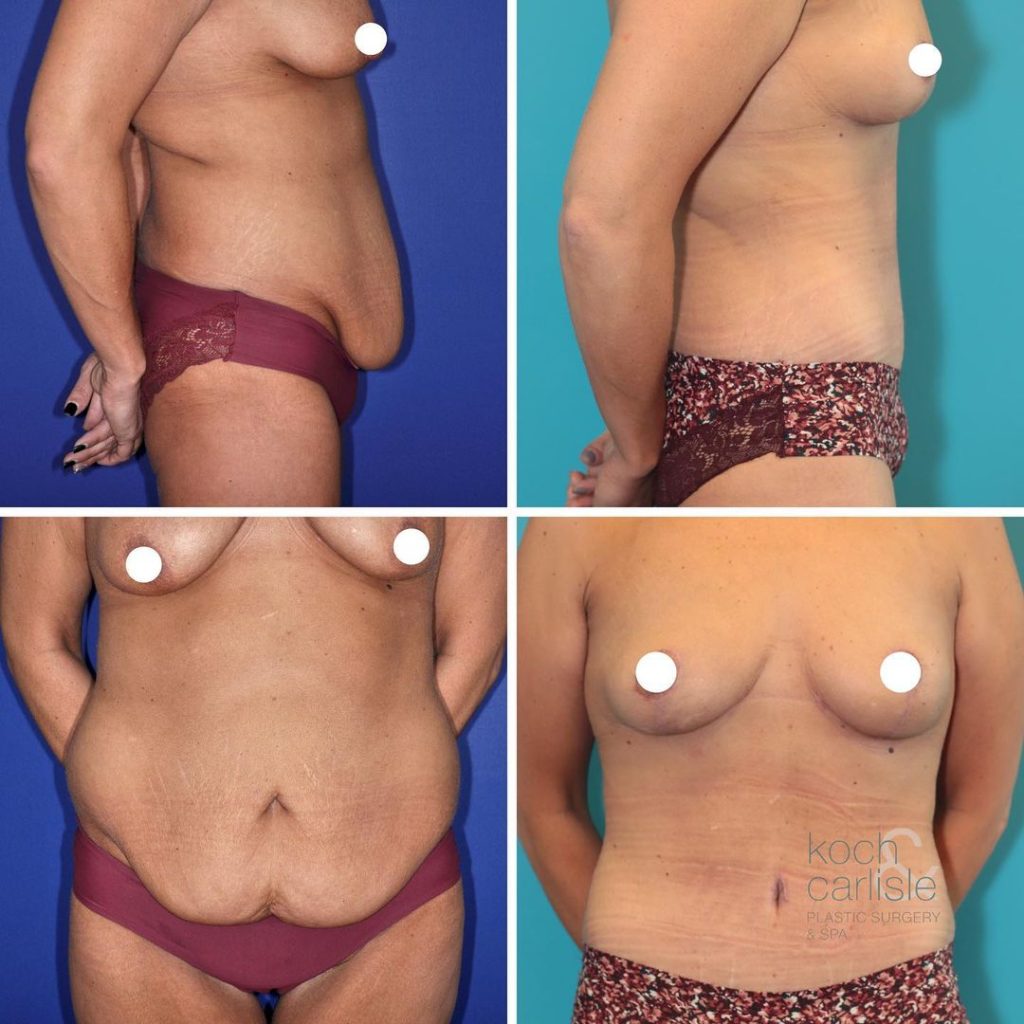 Week 1 After Your Tummy Tuck
You will wear a compression garment to keep your incisions stable, minimize swelling, and help with the healing process. The first week after your tummy tuck is a time to rest and follow a healthy diet. You will have some bruising and swelling in your midsection, but taking your pain meds and applying ice packs will help with any discomfort or pain. Make sure to follow your plastic surgeon's recommendations regarding pain medications and techniques to manage discomfort.
You should also find someone to help you with your daily chores and household activities during this time, as your range of motion and lifting ability are limited.
Weeks 3 to 4 After Your Tummy Tuck
At this point, you should be back to work and recovering nicely from your tummy tuck. You can resume light activities but postpone exercising until at least 4 to 6 weeks after surgery. You can stop wearing your compression garment after 1 month if given the OK by your plastic surgeon.
Once your incisions are fully healed, you can also start a scar care routine. Scar-minimizing treatments can include massaging the incision with vitamin E oil or scar cream or using silicone patches on your scars to minimize their appearance. Our practice also offers laser skin treatments to help reduce the appearance of post-surgical scars for those who are at least a few months post-op.
6 Months After Your Tummy Tuck
At the 6-month mark, any swelling and bruising should have subsided, and you are on your way to a full recovery! You are probably admiring your new, flat midsection, but it may take up to 1 year to see complete results. You should be back to your normal routine and can resume strenuous activities at this point.
Don't forget that your tummy tuck results need to be maintained with a healthy diet and consistent workout routine. Staying at a stable weight is an important part of maintaining your results, as extensive fluctuations in weight will affect your midsection.
When Can You Lay Flat and How To Sleep After Tummy Tuck
If you are a stomach sleeper, you may have to change your sleeping habits for a bit after your tummy tuck. The best way to sleep after a tummy tuck is on your back and with your upper body elevated. You can elevate your upper body by sleeping on a recliner or wedge pillow for 2 to 4 weeks.
As you start to heal from your tummy tuck, you should be able to lie flat or resume sleeping on your stomach or side. Luckily, most men and women find it easy to sleep on their backs after a tummy tuck.
Am I a Good Candidate for a Tummy Tuck?
You may be a good candidate for a tummy tuck if:
You are in overall good health
You are at a stable weight
You don't smoke, or you're willing to stop smoking for several weeks before and after the surgery
You have excess, loose skin and pockets of excess fat on your abdomen
You have separated abdominal muscles
You can find more information about who makes a good tummy tuck candidate from the American Society of Plastic Surgeons.
When seeking a tummy tuck, it's important to analyze your motivation and make sure you are doing it to enrich your life rather than make other people happy. Having a healthy mental attitude and realistic expectations regarding your results will help you enjoy your tummy tuck results fully.
It's important to remember that a tummy tuck is a complicated procedure with an involved recovery time. Your plastic surgeon, Dr. Michael Carlisle will be your guide when deciding if you are a good candidate and how to handle the recovery process.
Take a look at our before and after gallery to see how we have helped other men and women achieve a sculpted midsection. If you are ready to transform your midsection with a tummy tuck, request a consultation or call us at (515) 277-5555 to schedule an appointment.